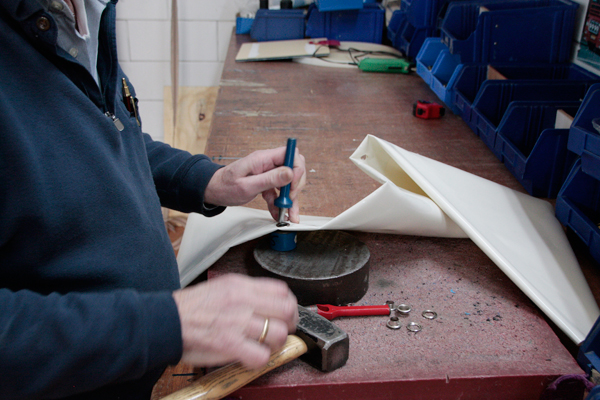 Ben jij op zoek naar een op maat gemaakt balkondoek? In onze hekwerk webshop kun je zelf een balkondoek op maat bestellen. Omdat er veel mensen zijn die graag afgeschermd op hun balkon of dakterras zitten bieden we deze balkondoeken aan.
Balkondoek
Een balkondoek is ideaal om beschut op je balkon of dakterras te zitten. Deze balkondoeken worden op verschillende manieren aan het balkonhekwerk bevestigd. Hieronder laat ik je twee methoden zijn. De eerst is het balkondoek tussen de horizontale liggers spannen. Dit wordt meestal met elastiek of spanbandjes gedaan.
Balkondoek gespannen tussen de horizontale liggers
Een andere manier om je balkondoek aan het balkonhekwerk te bevestigen is door deze tussen de spijlen te vlechten. Wanneer je het doek tussen de spijlen hebt gevlochten zet je het doek vast met een elastiek of spanbanden.
Balkondoek tussen de spijlen gevlochten
Een balkondoek bestellen
Wil jij graag een balkondoek bestellen voor jou balkonhekwerk? Neem dan eens een kijkje in onze hekwerk webshop. Hier bieden wij een balkondoek op maat aan.
Dit balkondoek kun je in diverse kleuren bestellen, verschillende hoogtes en lengtes. Wij leveren geen standaard doek per meter, maar je kunt het doek op de cm nauwkeurig bestellen.
Wanneer je een balkondoek gaat bestellen en het gevlochten door de spijlen wilt bevestigen aan het balkonhekwerk. Dan raad ik je aan om ongeveer 1 cm per meter balkonhekwerk extra te bestellen, zo is het balkondoek niet te klein.
In onze hekwerk webshop kun je natuurlijk ook terecht voor balkonhekwerken, sierhekwerken en poorten.